Unlimited Interviewing & Negotiation Assistance to Assure You're Paid What You're Worth. Guaranteed.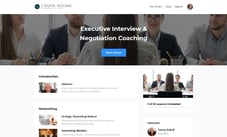 Click on the thumbnail to see our curriculum
If you feel you need support during the interviewing phase of your career search, we offer a program called the Six Figure Finish Line program, which is unlimited interview and negotiation coaching until you start your next position.
With this program, we personally will give you a multitude of hours of general interview advice and strategies, including techniques such as Sales Psychology and advanced persuasion techniques like Neurolinguistic Programming. Every time you have a conversation with a gatekeeper or a decision maker, we will be there to personally coach you prior to the interview.
Our founder, Tammy Kabell, would personally support you prior to every face to face interview with a decision maker. In addition, she would also assist you in all negotiation discussions (behind the scenes) and even give you a script to read during your counter offer in order to ensure you are paid what you're worth.
We give you a money-back guarantee with this program as well, in that we will make you more from the negotiating from your next employer's initial offer to their final offer than what you invested in this program, or we will give you the difference back (and we've never had to give any money back!).
This is a very select service by invitation only for a smaller number of clients, as we work closely with each of them - for dozens of hours each – for a potentially extended period of time. If this is something you are interested in, we can talk about being the right fit for this service after we have exceeded your expectations through our branding program.
If you have active hiring processes and want assistance with interviewing and negotiating only, click here to contact us and we can determine together if this program is a good fit for your situation.