Invest in Yourself and Your Career

---
Program Description
Tammy Kabell, the founder of Career Resume Consulting, is an experienced executive coach who has been the guru at the top of the mountain and the boxing coach in the corner of the ring, whispering in the ears of top executives in some of the largest companies in the U.S., Europe, and Asia Pacific.
The International Coaching Federation recently published the results of a study on the impact of executive coaching: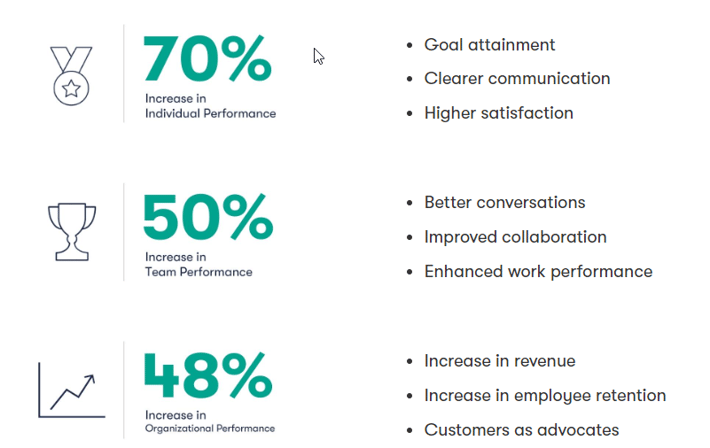 Some of the topics that Tammy can cover with you as your private executive coach can include:


Career Development
Develop a clear understanding of your career goals and objectives
Develop a career plan that aligns with your strengths and interests
Identify potential career opportunities and develop strategies to pursue them
Increase your confidence and skills in networking and job searching
Leadership Development
Identify your leadership strengths and weaknesses
Develop effective leadership skills and strategies
Increase your ability to manage and motivate teams
Develop communication skills to inspire and engage others
Develop conflict resolution skills to handle challenging situations
Executive Presence
Develop a strong and authentic personal brand
Improve your communication skills, including public speaking and presentations
Develop a professional image and appearance
Increase your confidence and that elusive "executive presence" that is needed when climbing the corporate ladder
Emotional Intelligence
Develop self-awareness and self-regulation
Enhance your empathy and understanding of others
Improve your communication and relationship-building skills
Increase your ability to handle stress and difficult situations
Time Management
Develop strategies for effective time management
Increase your productivity and focus
Learn to prioritize tasks and manage competing demands
Reduce stress and improve work-life balance
Business Strategy
Develop a deep understanding of your industry and market
Develop strategic thinking and planning skills
Identify opportunities for growth and innovation
Develop strategies to compete in a rapidly changing business environment
Benefits of Hiring Tammy Kabell as an Executive Coach:
Access to an experienced coach with a proven track record of success for over 20 years
Personalized coaching tailored to your unique needs and goals at a pace that works for your busy schedule
Improved self-awareness and ability to identify blind spots
Enhanced leadership and communication skills
Increased confidence and ability to achieve your most ambitious career goals, both in the short term and into retirement

Remember, the organization sees you as the
bridge that will take them to where they want to be.
Let Tammy Kabell help you build that bridge.