At what age do you become too old for a career change? The answer is: you don't. While changing careers can be more difficult for seasoned workers, there really is no reason why you have to stay in a job you don't enjoy. Career change is possible for anyone and at any age.
Career Change at Any Age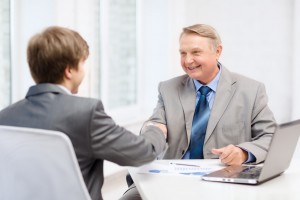 There are several reasons that people may feel as though they are too old for a career change. For one, seasoned workers may be apprehensive about starting over at the bottom. While a career change can result in a significant demotion, that does not mean that you need to start completely over. After all, while you may be new to the career, you aren't new to the workforce. You still have plenty of valuable skills and years of experience that will lead you to promotions in no time.
Another reason people feel they are too old for a career change is that they worry if they will be able to learn the new skills they need for their new job. If you find the right job, however, this does not need to be a concern. Instead of starting over in any random job, find a skill you excel at and go from there. While there are new things you will need to learn, your previous knowledge or skill with the subject matter will help you off to a great start.
Lastly, you may feel that you are too old for a career change if you are nearing retirement. Ultimately, this is a choice you alone can make. Would you rather spend the next ten years in a miserable job or the next twenty years in a job that you love? If you would rather work longer in a job that is just perfect for you, then a career change may be just what you need. A career change may be more difficult at an advanced age, but there is no such thing as too old.
Start Now
At Career Resume Consulting, we offer services in career consulting, career guidance and more.
Call us today to get started 816-600-2478!
Proudly Serving Kansas City, Lee's Summit and the Surrounding Areas.